* * CED 13.01 Released * *
---
[ Follow Ups ] [ Post Followup ] [ Signature.net Forum ]
---
Posted by Robert G Laurin on July 19, 2013 at 11:55:49: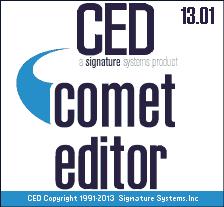 Click on the link below to download the Latest & Greatest Comet Editor.
This update fix some minor (annoying) bugs with Comet 32.
---
---
Each file can be a maximum of 1MB in length Uploaded files will be purged from the server on a regular basis.
---
[ Follow Ups ] [ Post Followup ] [ Signature.net Forum ]