Re: * * CED 13.02 Released * *
---
[ Follow Ups ] [ Post Followup ] [ Signature.net Forum ]
---
Posted by Robert G Laurin on July 23, 2013 at 09:19:07:
In Reply to: * * CED 13.01 Released * * posted by Robert G Laurin on July 19, 2013 at 11:55:49: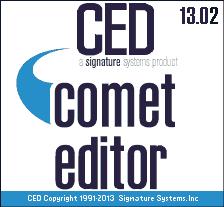 Found out that the way Comet 32 uses inactive foreground partitions as background still left issues with proper termination of background process.
Download version CED 13.02
Click on the link below.

---
---
Each file can be a maximum of 1MB in length Uploaded files will be purged from the server on a regular basis.
---
[ Follow Ups ] [ Post Followup ] [ Signature.net Forum ]